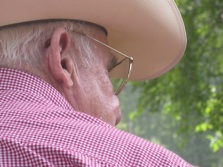 Jack Brainard has been in the horse business for over 60 years, both breeding and training horses.  He has judged for a variety of horse associations for over 40 years, both in the U.S. and overseas.  Jack is one of the founders of the National Reining Horse Association and was one of the original directors.  He also was one of the four original organizers of the Iowa Quarter Horse Association, as well as helping to organize the Midwest Quarter Horse Association.  Among the many "firsts" in Jack's career, he introduced the first registered Quarter Horse to both Iowa and Wisconsin.  The horses Jack has bred and trained have taken top honors in many disciplines, including reining, cutting, roping and pleasure riding.  Jack was a member of the U.S. Horse Industry Advisory Committee during the Nixon administration.  Jack has been the subject of many magazine articles in national horse publications, and he is the author of several books, including "If I Were To Train a Horse." (Bring your copy for Jack to sign!)  Recently, Jack was featured on RFD-TV on the Chris Cox Show.  Jack has also judged the hugely successful "Road to the Horse" competition every year since its inception.  Furthering his involvement and dedication to his current passion for "cowboy dressage", Jack has helped found the newly formed Western Dressage Association of America. Truly, few other horsemen can match Jack's depth and breath of knowledge when it comes to horses.

Capping his checkered career in the world of horses, in June of 2010 Jack was inducted into the National Reining Horse Hall of Fame during the NRHA Derby in Oklahoma City.

This January, the 75th Anniversary Collector's Edition of Western Horseman Magazine, the country's oldest horse magazine, contained a feature length article on Jack, and the announcement of his selection for their horseman of the year award for 2010 called, "The Western Horseman Award", an honor given to "those who have contributed significantly to the culture of Western horsemanship through groundbreaking achievement and contribution to the Western-horse industry."

As Western Horseman publisher Darrell Dodds wrote, "He's been a championship roper, horse trainer, breeder, rodeo producer, industry visionary, association organizer, best-selling author, clinician, scholar, historian and judge.  If the horse industry ever created a Renaissance man, Jack Brainard would be it."  Darrell sums it up perfectly.  There's no one quite like Jack.

When Pat Parelli was interviewed in the June edition of Horse and Rider, he was asked to name the three people that he would have accompany him in his dream trail ride.  He included Tom Dorrance, Ronnie Willis and Jack Brainard.  Of those three, Jack is the only living horseman.

When all-time leading money winning Thoroughbred trainer D. Wayne Lukas was inducted into the Thoroughbred Racing Hall of Fame, during his induction speech he said, "Everything I know about horses I learned from one man… Jack Brainard."

Larry Mahan, Equestrian Nation T.V. show host, six-time World All Around Rodeo Champion, Pro Rodeo Hall of Famer, Rodeo Hall of Famer, Oregon Sports Hall of Famer, and subject of an Academy Award-winning documentary says about Jack:  "The definition of a true master is someone who has integrated all of his knowledge, intelligence and skills into every tissue and skill in his body.  Jack Brainard, in my humble opinion, is a 'True Master'".

Cowboy dressage master Eitan Beth-Halachmy claims Jack's book, If I Were to Train A Horse, is the best book on horse training he has ever read.  After finishing it Eitan said that Jack already wrote all the things he thought he had discovered, but that Jack was there first!

Many leading horseman and competitors consider Jack the Flying Lead Change Doctor, and it is to Jack they turn to or send their horses to, when they themselves having difficulties.  Indeed, it is Jack's ability to so effectively teach proper, soft, straight-line flying lead changes that such a great many advanced riding students flock to his clinics.

It can truly be said of Jack that he is a living master of the art of horsemanship.  We are both honored and privileged to have him teach these courses.  We are particularly proud of the fact that Jack teaches more courses at Kokonini Farm than any other facility in the world.  If you would like to visit Jack's website, click here.